To commemorate his visit to Studio Pierrot, actor Michael B. Jordan receives a special illustration from Naruto Character Designer, Tetsuya Nishio.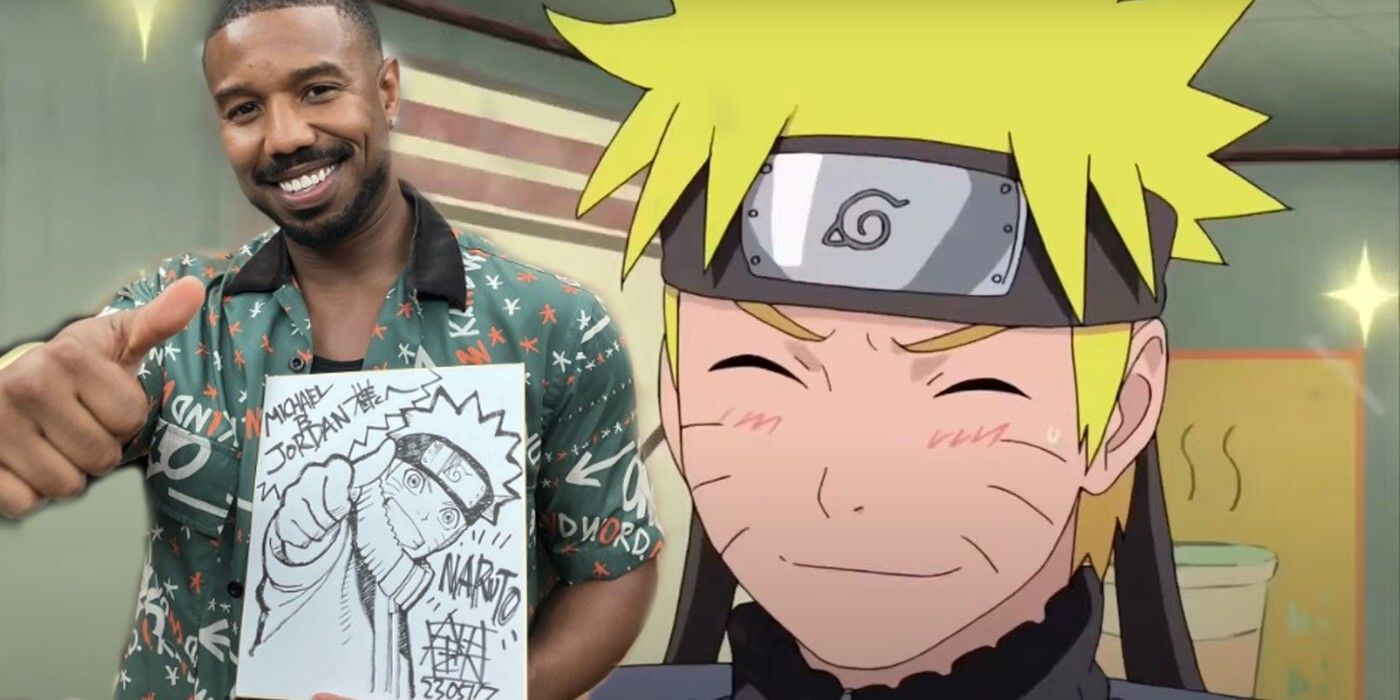 A character designer for the Naruto anime series gifted actor Michael B. Jordan (Black Panther, Creed) a special illustration of the beloved ninja.
Jordan, who happens to be a big Naruto fan, recently paid a visit to Pierrot, the studio that produces the Naruto anime. Tetsuya Nishio, who serves as one of the series' character designers, drew Jordan a special illustration to commemorate the actor's visit. Pierrot highlighted this on its Twitter page, showcasing a photo of Jordan holding up the drawing while giving a big thumbs up to the camera.
Naruto's iconic status has netted the orange-clad ninja recognition from millions of fans across the globe. As of March 2023, the series has over 250 million copies in circulation worldwide, making it among the top 10 best-selling manga of all time. Over 4.6 million fans also participated in a global poll to determine the franchise's favorite character, which ended up being Naruto's dad, Minato. In January, Naruto even got a playful nod from NFL running back Jamaal Williams during a Sunday Night Football game, jokingly referring to himself as the "First Swagg Kazekage, leader of the Hidden Village of the Den."
One Piece's Creator Expresses Love for Naruto
Naruto has also received accolades from other prominent manga artists, including One Piece creator Eiichiro Oda. A published conversation between the two authors revealed they had shared a friendly rivalry for many years. During this discussion, Oda expressed that, out of all the manga that existed at the time of One Piece's creation, "the one that made me work hardest was Naruto, hands down." He also stated that he believes Naruto has a larger following than One Piece. Oda reiterated this view while discussing Netflix's upcoming live-action One Piece series, which he called the franchise's last chance to "go global."
Naruto and Boruto's Shōnen Jump Runs
Masashi Kishimoto's Naruto manga ran in Weekly Shōnen Jump from September 1999 to November 2014. The series' follow-up, Boruto: Naruto Next Generations, launched in the same publication in May 2016. Chronicling the adventures of Naruto's son, the manga is currently in the middle of its "Omnipotence" arc, which features a reality swap between Boruto and his adopted brother, Kawaki. Part I of Pierrot's Boruto anime series wrapped up on March 26. Although the studio has greenlit Part II for production, it has not yet confirmed a release window.
Naruto and Boruto: Naruto Next Generations are available in English from VIZ. Pierrot's respective anime adaptations are available on Hulu and Crunchyroll.