My Hero Academia's Tomura Shigaraki finds life outside villainy as he takes on Eva piloting in this Neon Genesis Evangelion crossover.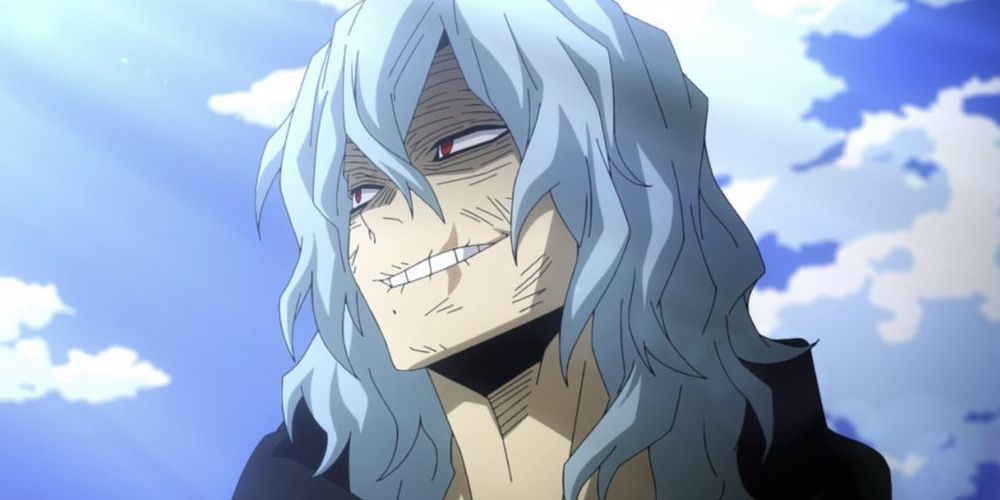 A piece of fan art has created an unexpected anime crossover, showing My Hero Academia's Tomura Shigaraki as an array of Neon Genesis Evangelion characters.
   The Twitter user kpqi took to the platform to show off their MHA x NGE piece, which centers on the League of Villains leader, Shigaraki. He dons the white plugsuit worn famously by the character Rei Ayanami, as well as a smaller drawing of him as a popular Shinji Ikari meme, and finally, a chibi-style illustration of Shigaraki lying in bed with big headphones on. The drawing features accurate motifs from All For One's protégé, such as his red eyes, eczema-covered skin and scars on his eye and mouth.
   Neon Genesis Evangelion Meets My Hero Academia
   The most prominent illustration shows a headshot of the MHA antagonist staring at the camera in his Rei suit. His hair has been slightly shaded to reflect the character, finding a midway between his bright white color and Rei's light blue. Alongside the headshot of Shigaraki as Rei, the piece also accurately depicts the popular picture of Shinji sitting distraught in his chair, as seen in episode 25 of the original Neon Genesis Evangelion series, "Do You Love Me?" The replies were full of positive responses to the art.
   Shigaraki first appeared within MHA's "U.S.J Arc" in the first season, where he invaded UA and attempted to kill the number one hero, All-Might. He would become a major antagonist from there, forming a rivalry with the main hero Izuku Midorya, and leading a squad of villains in his pursuit of bringing down hero society.
   Hideaki Anno created Neon Genesis Evangelion in 1995, which ran for 25 episodes. The studio remade the controversial ending into a big-scale movie, The End of Evangelion, which re-concluded the franchise in 1997. However, it was revived again in 2007 with the Rebuild of Evangelion movie series, which recreated the show's original story with new plot points and animation. The latest of these films aired in 2021.
   My Hero Academia is a popular series that inspires much fan art, as seen in this image of Dark Deku. The show is available to stream on Crunchyroll, with the first season also streaming on Netflix. It is currently in its sixth season, with the next episode, "No Man is an Island," scheduled for March 25.