Satoru Gojo and Suguru Geto show off their personalized high school uniforms in new promotional art for the upcoming second season of Jujutsu Kaisen.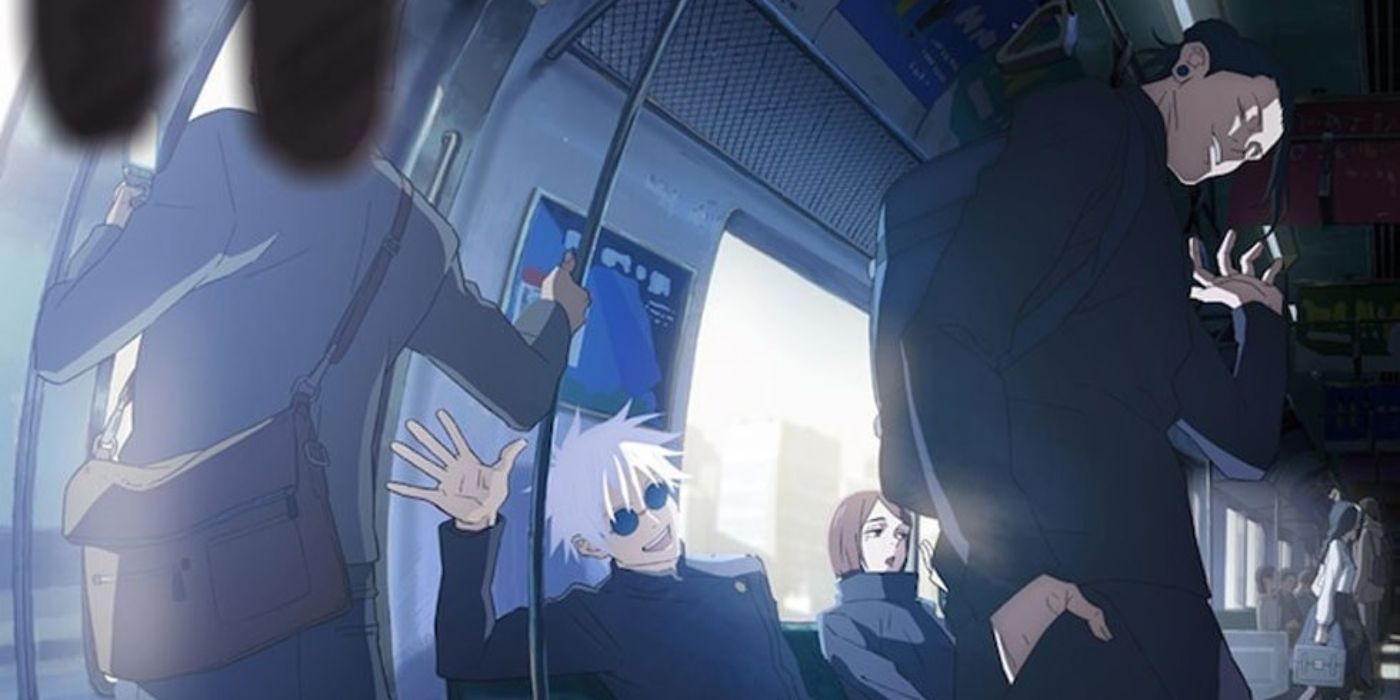 New promotional artwork spotlights Suguru Geto and Satoru Gojo to hype the upcoming premiere of Jujutsu Kaisen Season 2.
The images were uploaded on the anime adaptation's official Twitter and showcase the two special-grade sorcerers in their high school uniforms. Notably, Geto's outfit features very baggy pants, while Gojo wears a pair of glasses with dark lenses instead of his signature black blindfold. Together, the artwork suggests that the new season will likely feature flashbacks to the pair's time as students at Jujutsu High.
Gege Akutami's ongoing Jujutsu Kaisen manga first appeared in Shueisha's Weekly Shōnen Jump magazine in March 2018 and so far, the series has produced 22 volumes worth of content. The story follows Yuji Itadori, a pink-haired high school student who finds himself recruited by a group of Jujutsu Sorcerers after he eats one of the withered fingers of Ryomen Sukuna, the undisputed King of Curses. Training alongside his classmates, Megumi Fushiguro and Nobara Kugisaki, under the strongest sorcerer in the world, Satoru Gojo, Itadori seeks to protect as many people as possible, so they can go on to have meaningful deaths.
Jujutsu Kaisen's Devoted Fan Base
With over 70 million copies sold around the world, Akutami's Jujutsu Kaisen stands as one of the best-selling manga of all time alongside Ken Wakui's Tokyo Revengers and Kōhei Horikoshi's My Hero Academia. Fans show their appreciation for the series by crafting impressive fan-made content; recent examples include realistic fan art of Gojo that emphasizes his intense blue eyes and a festive holiday cosplay that sees Gojo and Geto opening Christmas presents together.
Moreover, the Jujutsu Kaisen manga's great success has resulted in multiple adaptations across different mediums, including video games and stage plays. The anime adaptation by MAPPA (Yuri!!! on Ice) debuted its first season in October 2020. Like the manga, the show resonated with viewers and went on to win Anime of the Year, Best Antagonist and Best Ending Sequence at the 5th Crunchyroll Anime Awards.
The highly anticipated second season of the Jujutsu Kaisen anime is slated to premiere in July as part of the summer 2023 anime season. MAPPA CEO Manabu Ohtsuka teased what the new season has in store for fans and viewers during a recent interview, stating, "we are not going to be doing the same thing and repeat ourselves… I would like to show even greater success and bigger growth in season 2."