Rarely do Chainsaw Man fans get to see Yoru and Asa together in the same place at the same time, but two talented cosplayers have solved that problem.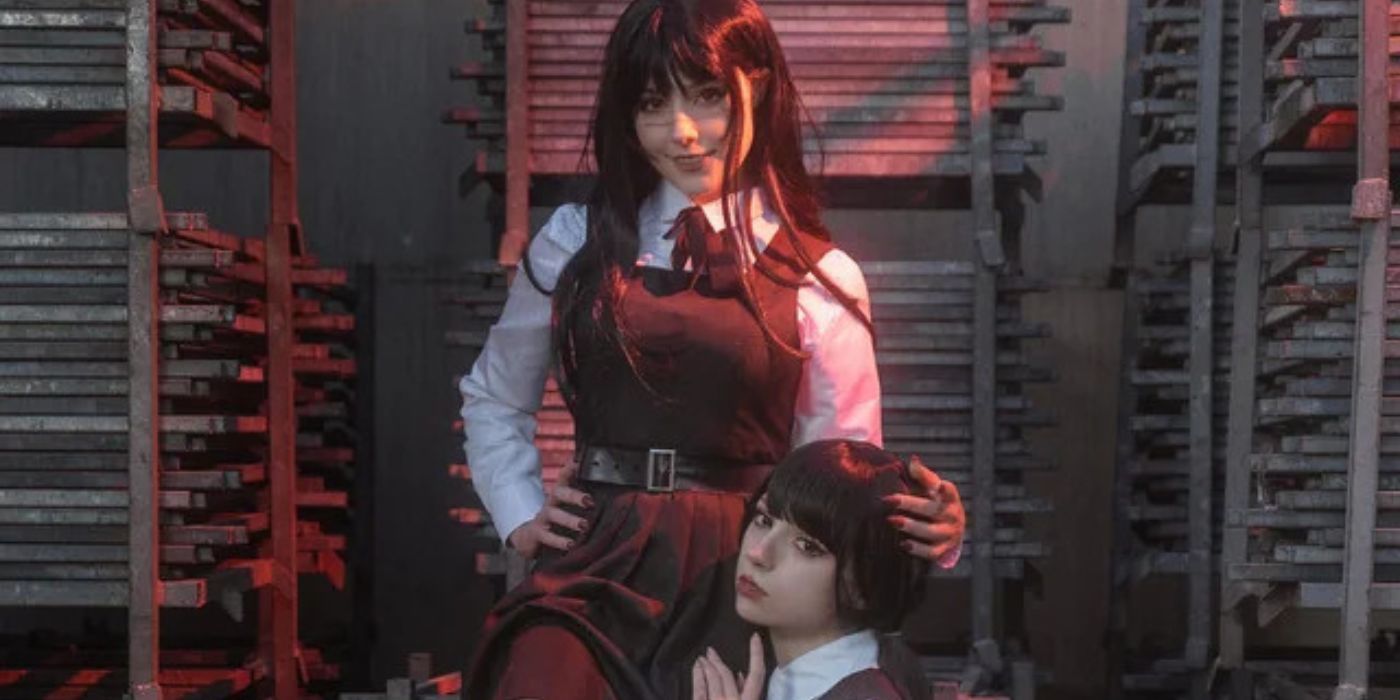 The following contains major spoilers for the Chainsaw Man manga by Tatsuki Fujimoto, available now in English through Viz Media's Shonen Jump imprint.
   At first glance, Chainsaw Man fans might think, through some clever editing, they were seeing the same person cosplaying Asa and Yoru.
   Cosplayers @/nymphahri and @/himee.lily teamed up to create a jaw-dropping cosplay of Asa and Yoru, the two protagonists of the second part of Chainsaw Man's manga. @/nymphahri, who portrays the War Devil Yoru, has a sinister smirk gracing her lips, one hand on her waist while the other wrapped protectively — or possessively — around Asa's head. To emphasize the menacing aura, scarlet light shines only on Yoru's face. Asa, who @/himee.lily cosplays kneels with her legs splayed to the side, her expression serene. The next photo features the two holding hands, with Asa looking a little uncertain while Yoru gazes straight into the camera, her hand grasping Asa's.
   With the cosplayers' expressions and clothes, the two have accurately embodied the nature of Asa and Yoru's relationship. The second part of Chainsaw Man opens with a new protagonist, high school loner Asa Mitaka, who accidentally attracts the attention of the Justice Devil. As Asa lies in a pool of her own blood, she meets the gaze of the War Devil, who offers her a contract: in exchange for saving Asa's life, the high schooler will allow the War Devil to inhabit her body. Nothing comes without a cost, though. While Asa is now alive, she has to share her body with Yoru, and her thoughts are no longer private. What's more, Yoru harbors intense hatred against Chainsaw Man and will stop at nothing to find a way to defeat him.
   Chainsaw Man: Yoru and Asa's Relationship
   Although Yoru is a dangerous entity, she has shown an uncharacteristically human side to her personality, such as her fear of being forgotten and occasionally throwing tantrums when upset. Despite the power imbalance of their relationship, it's notable that Yoru is probably the only person who is the closest, pun intended, to Asa. Sometimes, she acts more like a friend or a sister than a superior, especially when Asa is unhappy.
   Part 1 of Tatsuki Fujimoto's Chainsaw Man launched in Weekly Shōnen Jump in December 2018 before concluding in December 2020. The first 97 chapters focus on Denji, the crass 16-year-old who suddenly finds himself gifted with the ability to turn into a devil called Chainsaw Man. After a tumultuous storyline, taking Denji through an emotional rollercoaster, Part 1 ended with the introduction of the "School" arc. As of January 2023, the manga has sold over 23 million copies. In October 2022, Chainsaw Man received an anime adaptation produced by MAPPA which concluded with 12 episodes. MAPPA has not yet revealed whether a second season is in the works.